ENGAGING STUDENTS IN SPACE TECHNOLOGY PROJECTS IN COLLABORATION WITH ACADEMIA AND INDUSTRY PARTNERS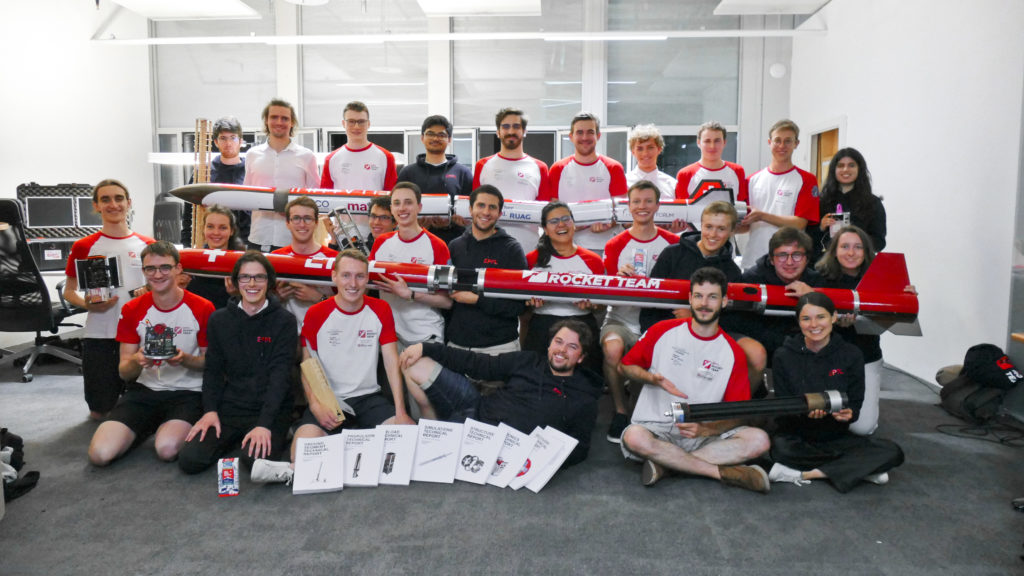 Our assocation, recognized by the EPFL, brings together about 200 students from EPFL but also from various Swiss schools and universities such as Unil, HEIG-VD OR ZHAW. We supervise three projects: a competition project, the aim of which is to design and launch a rocket in international competitions, a training project aimed at early bachelor students wishing to learn and train in rocket design, and a research and development project whose mission is to develop a system to re-land the competition rocket in the manner of SpaceX launchers.
The EPFL Rocket Team was founded in 2016 by students engineers who wanted to put their theoretical skills into pratice through an interdisciplinary project. They set themselves the challenge of participating in the largest international rocket launch competition, the Spaceport America Cup, taking place every year in the United States. Since then, our association has grown significantly and brings together young, ambitious and enterprising space enthusiasts who wish to train for careers in aerospace.
In addition to a lot of technical knowledge, I learned a lot about managing personalities, building on each other's strengths and allowing team members to improve where they still have weaknesses.
Despite starting this project with no prior knowledge of propulsion, the team managed to develop a working rocket engine within 2 years! Believe in your dreams!
Joining the EPFL Rocket Team was a very good decision. It allowed me to have an enriching and formative experience in parallel to my studies and to meet passionate and motivated people. I learnt a lot of things that you can't learn in a theoretical course and developed my softskills. In short, if you are hesitating to join an association, don't ask yourself the question, you are in the right place!
I joined the Rocket Team with no particular knowledge of rocketry or any particular technical field. And yet, in the space of 2 years I have learned an uncountable amount of things, both technically and organisationally. A practical project like this one is a perfect companion to a mostly theoretical study like the one at EPFL.
DISCOVER ONE OF OUR ROCKETS
ABOUT THE EPFL ROCKET TEAM