BELLA LUI II - COMPETITION
Bella Lui II is an optimized rocket which takes up the bases of Bella Lui I, it thus has the same structure and the same type of engine but brings many technical innovations like for example its structural tank which support the structural efforts of the rocket or its mechanism of separation which functions without pyrotechnics. This mechanism has also been selected by ESA to participate in the "European Space Mechanism and Tribology Symposium". Thanks to these technical innovations, its length, weight, reliability, and therefore its efficiency have been greatly improved.
RESULTS AT THE SPACEPORT AMERICA CUP
of the category SRAD-10K​
of "Dr. Gil Moore Award for Innovation"
of the Sportmanship Awaed
of the SDL Payload Challenge
... AND AT THE EUROPEAN ROCKETRY CHALLENGE
place in Hybrid Flight Category
WATCH ONE OF OUR DROP TESTS
COMPARAISON TO BELLA LUI I
THE ROCKET AND ITS INNOVATIONS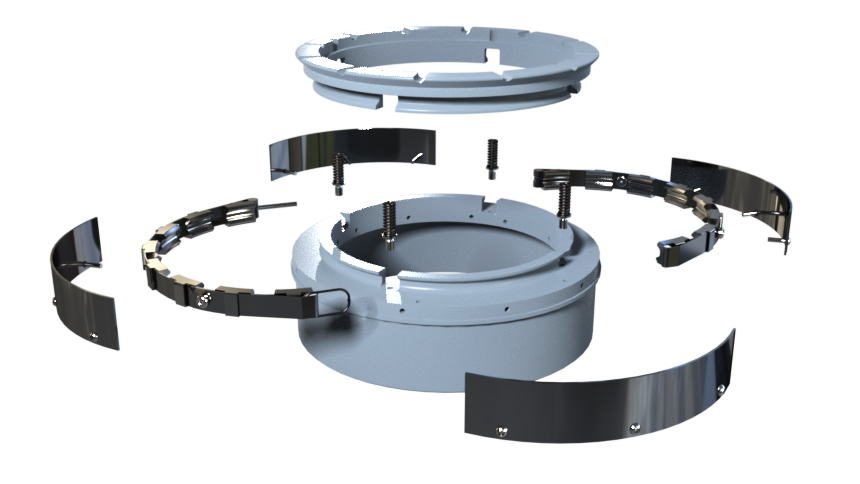 The separation mechanism has been designed to be safer and more reliable than its predecessors, so it has no pyrotechnics. The rocket is separated when a very high current is sent through the nichrome wire surrounding a dyneema wire. Under the effect of this current, the nichrome heats up and melts the dyneema, which results in the separation of the rocket in two and the release of the parachute.
The entire separation mechanism is pre-stressed before take-off, and this pre-stress energy is used for separation (release triggered by cutting the dyneema wire).
PARACHUTES SRAD (Student Researched and Developed)
Our new parachute is 100% designed and manufactured by the team.
It has been developed to best suit our needs in terms of the rocket recovery system.

This year's payload consists of a system for recovering energy from the vibrations present during a rocket launch using a system of flexible mechanisms and piezoelectric ceramic materials.
A conventional inductive component is also included as a reference system to compare the two energy recovery methods.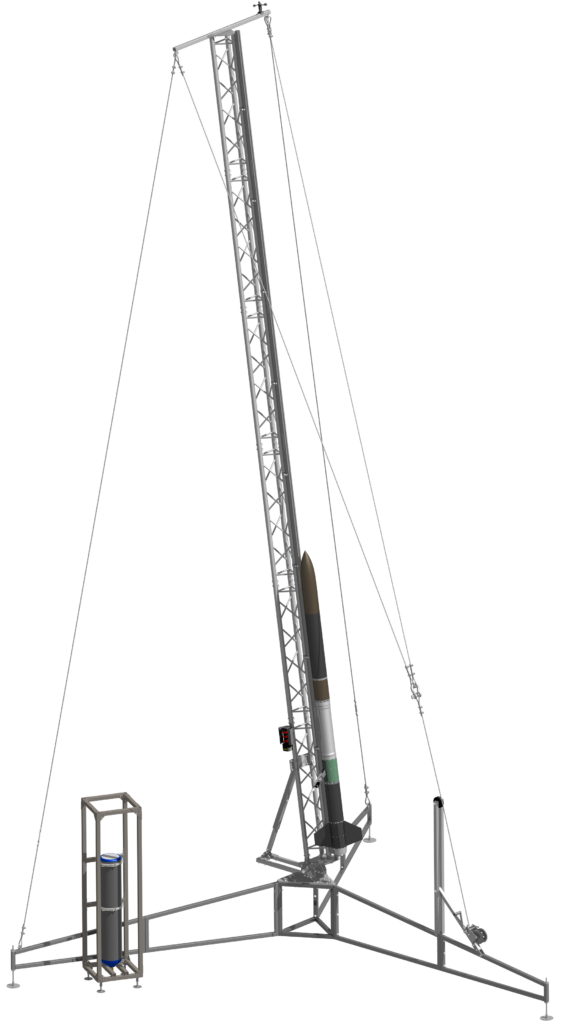 The first launch rail of the association, its design was entirely realized by one of our members as a semester project credited by the EPFL. The purpose of the launch rail is to accompany the rocket until it reaches a sufficiently high speed to be stable during its flight and to go straight up! With its 9m height and 6.7m span, this all-terrain launch rail will be used by many more ambitious projects in the years to come.